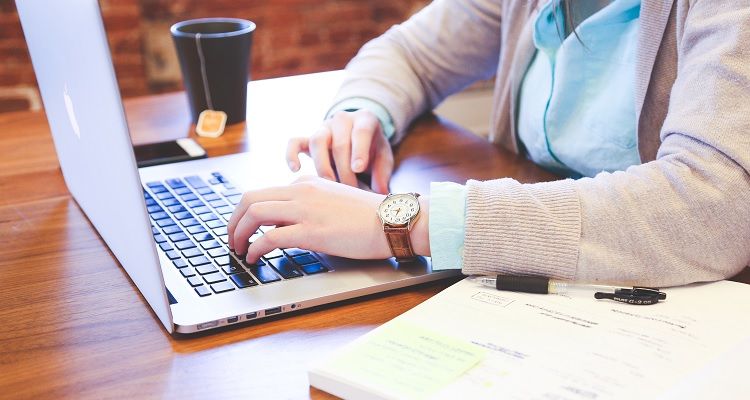 Traditionally, the choice for those considering online vs. on-campus Doctor of Nursing Practice (DNP) degree programs involved determining how much faculty engagement a student wished to experience. To keep themselves on track, online students had to exercise a large amount of self-discipline.
With no teachers physically present, students who lacked drive, focus and the ability to self-motivate could easily fall behind. However, times have changed, and the online classroom setting has been optimized to accommodate remote student learning.
Advancements in technology are now closing the gap between courses taken on campus and those taken over the internet. Video conferencing, social media and the proliferation of mobile devices have managed to make online education nearly identical to that found on campus. Doctor of Nursing Practice degrees can now be earned through both online and on-campus programs. DNPs are also becoming the more favored of the two-terminal nursing degrees (the other being a Ph.D.), especially in more administrative, less research-heavy fields.
DNP degrees are likely to become the preferred route to specialty nursing positions and high-level administration roles in the healthcare industry. In fact, many DNP graduates go on to have successful careers as nurse practitioners and university professors, and, in some cases, in leadership positions like that of chief nursing officer (CNO).
Earning a DNP degree is not an easy task, but it can be done just as effectively over the internet as on a college campus.
What to Look for When Choosing a Nursing Program
Choosing a nursing program requires an investment of both time and money that can shape a student's educational path and their career in healthcare. Since not all university programs are the same, it helps to know what to look for when choosing a nursing program. The following are some of the biggest deciding factors:
Accreditation
Students should look for programs that are accredited by the National League for Nursing Accrediting Commission (NLNAC) or the Commission on Collegiate Nursing Education (CCNE*). These accreditations mean that the programs are academically recognized and can prepare graduates for nursing licensure. Nonaccredited universities are essentially invalid and aren't worth consideration, no matter how inexpensive they are or how short their degree timeline is.
Nursing Specialities
Although registered nurses are largely considered the standard for nursing in the healthcare field, there are several RN specialties and subspecialties to consider. Nurses can work in family healthcare, pediatrics or adult-gerontology primary care. Different programs will offer various specialties for students to choose from, and students should research programs that offer education in areas they'd like to focus on.
There are also several different healthcare settings nurses can choose from. Ideally, students have a good idea of the type of healthcare and the setting they'd ultimately like to pursue. Knowing these intended career specifics will dictate the educational path when choosing a nursing program. 
Program Length and Schedule
Depending on the nursing program selected, the timeline for completion may be as short as 18 months or as long as four years. Accelerated programs that pack a lot of coursework into a short amount of time might not be feasible for individuals who need to maintain employment or keep up with personal obligations outside of school. Conversely, long programs may pose issues for students who aren't sure where they will be in the next year or two.
Whatever nursing program a student chooses, they should be certain they have the time to commit to it. Otherwise, they'll be wasting tuition on a partial education. Fortunately, there is much more flexibility with an online degree than on-campus education, making scheduling much easier for those with personal obligations and employment they need to maintain.
The Benefits of an On-Campus Degree
When online courses were first made available, students who decided to take that route rather than attend brick-and-mortar campuses were essentially engaging in a sort of guided self-education. Online teachers would post a syllabus of study materials, grade term papers that were faxed or emailed in and then administer difficult open-book tests.
In those early years, attending classes in person instead of over the internet meant engaging in a more traditional college experience and interaction with professors and other students. For this reason, the only programs available at first were those in which student interaction and hands-on training were less important.
While accounting or software development programs were easily accessible over the internet in 2005, a DNP degree program would have been available only on campus at that time because of the wide scope of DNP practical applications.
Recent studies suggest that the primary benefits of on-campus learning include students enjoying personal connections, in-person learning involving Q&A sessions and group discussions, networking with other future professionals in similar fields of study, improved student-faculty relationships and opportunities for practical applications.
Other benefits of on-campus education may include fewer technical requirements and hurdles, such as owning an adequate computer, easier credit transfers to other schools and fewer financial aid difficulties.
The Benefits of an Online Degree
For online education, commonplace technological advancements blur all of those previously insurmountable lines when it comes to an online degree vs. an on-campus degree. Attending classes over the internet and, in some cases, through smartphones and tablets is no longer the isolating, detached method of learning it once was. Advanced technology and increased internet speeds have made the online learning environment seamless and efficient.
Flexibility and Access
Flexible time schedules, 24/7 access to course materials and recorded lectures, a pool of potential students unlimited by geography, multimedia and social channels of communication and more up-to-date study materials are just a few reasons to favor an online program.
Utilizing Advanced Technology
Online programs now benefit from improved internet speeds and functionality along with better hardware, more device options than just desktops and laptops and social networks that are already deeply entrenched in the lives of potential students.
Remote Assistance and Guidance
Even preceptors are now able to remotely assist the students assigned to them. According to Xi Vivien Wu in "A Systematic Review of Online Learning Programs for Nurse Preceptors," in Nurse Education Today, online learning is an effective way for preceptors "to integrate theory into practice, teach clinical skills, assess clinical competency, and enhance problem-solving skills." 
A Modern Learning Environment for the Digital Age
DNP programs work especially well online because much of what DNPs do involves administrative and financial functions as well as an interprofessional collaboration rather than one-on-one patient interactions. Courses such as Healthcare Policy and Finance, Healthcare Information Systems, Ethical Leadership in Complex Organizations and Program Analysis are the types of classes that tend to translate nicely into online coursework.
A DNP Degree on Par with Conventional Programs
Students considering an online degree vs. an on-campus degree may want assurance that their credentials will impress future employers. While early online diplomas were viewed with a bit of skepticism, hospitals now consider them on par with conventional programs. An added bonus for employers is that employees who are pursuing their degrees online have more flexibility to continue working while they further their nursing education.
Earn a DNP Online at Duquesne University
Duquesne University's online Doctor of Nursing Practice program trains graduates to be ready and able to affect the way healthcare is practiced. The university's nursing program has also been repeatedly recognized as a leader in nursing education, most recently as a "Best Online Graduate Nursing Program" by U.S. News & World Report.
Duquesne University offers two DNP tracks for students to choose from — Clinical Leadership, and Executive Nurse Leadership and Health Care Management. Courses such as Healthcare Policy and Finance, Nursing Informatics and Data Management, and Evidence-Based Practice all play a critical role in developing the skills necessary to become an efficient RN ready to make a difference in healthcare. Further your career in nursing with Duquesne University.
[Add video from "What Is an Online Nursing Program Like?" here.]
*The baccalaureate degree program in nursing, master's degree program in nursing, Doctor of Nursing Practice program and the post-graduate APRN certificate program at Duquesne University are accredited by the Commission on Collegiate Nursing Education (http://www.ccneaccreditation.org).
Recommended Readings
Nurse Practitioner vs. Physician: Examining the Key Differences
Nursing Career Paths and Advancement Guide
DNP vs. NP: Comparing Career Paths in Nursing
Sources:
American Association of Colleges of Nursing, Commission on Collegiate Nursing Education
American Association of Colleges of Nursing, Doctor of Nursing Practice (DNP) Tool Kit
Canadian Journal of Nursing Informatics, "Benefits, Concerns, and Prospective Use of Technology Within Nursing Education"
CNEA, Standards for Accreditation
Healthcare Information and Management Systems Society, "Uses and Advantages of ELearning and Distance Pedagogy in Nursing Informatics Education"
Indeed, "Online Classes vs. Traditional Classes: Which Type Is Best for You?"
Nurse Education Today, "A Systematic Review of Online Learning Programs for Nurse Preceptors"
Yellowdig, "In-Person vs. Online Learning — Can They Compare?"